LIKE BEER? YOU'LL LOVE OUR BREWERY TOURS & EVENTS.
Take a tour of our historic brewery in Chippewa Falls and let one of our guides, family members or brewers, introduce you to 155 years of beer brewing and six generations of Leinenkugel family history during our Legacy Brewery Tour. Have you toured Leinenkugel's before? Try one of our new experiences! Our Behind the Scenes Tour with Matt Leinenkugel includes an inside look of the Leinenkugel's brewery and parts you don't normally get to see. Take a Master Brewer Tour, with John Hensley, and let him show you the ins & outs of the place where he brews your favorite beers. Lastly, stay at the Leinie Lodge for a Pilot Brewery Tour of our new small batch system and enjoy guided samples with Matt Leinenkugel! All tours start at the Leinie Lodge®, which is filled with historical photos, vintage brewing equipment and plenty of Leinie's beer gear and collectibles to take home.
Our tap room holds 15+ different Leinenkugel's beers that are in season, including some tap room exclusive made from our small batch Pilot Brewery. Come relax on our patio or by the fireplace with friends and family and enjoy our award-winning beers. Get the full flavor of all things Leinenkugel's® at one of our upcoming events! Subscribe to stay-in-touch & be the first know what's happening in our neck of the woods at Leinenkugel's®.
We recommend you book in-advance. For more information, please call (888) 534-6437.
Image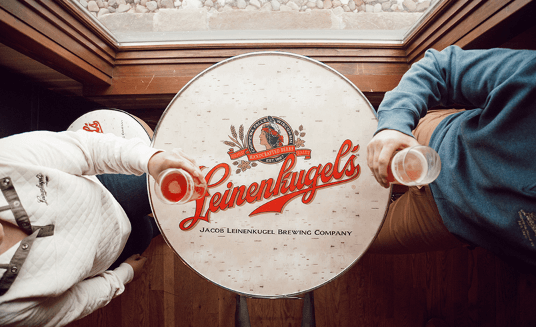 HOMETOWN HAPPY HOUR
MONDAY - THURSDAY FROM 4PM-CLOSE
Hey Locals! Does your zip code start with 547?
If so, Enjoy 50% off sampling ($2.50 for a pint of Leinie's) after work Monday - Thursday from 4:00pm to close.
Must show I.D. or Student I.D. for Zip Code. Must be 21+. Some exclusions may apply & does not apply during events.
FOOD TRUCKS
FRIDAYS & SATURDAYS FROM 12PM - 7PM
Enjoy a local food truck ~almost~ every Friday & Saturday of the Summer through October 8, 2022.

Friday, September 23 & Saturday, September 24: Live Great Food
Friday, September 30: Cravings
Friday, October 1: Dhimiters
Friday, October 7: All Sauced Up & Saturday, October 8: Live Great Food
Image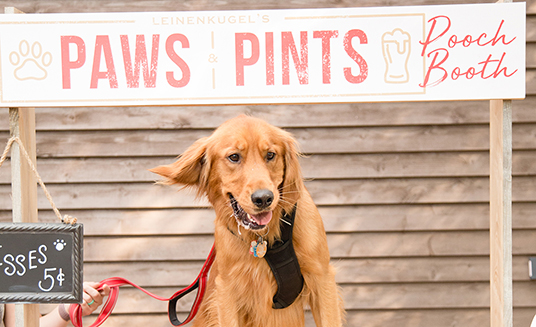 PAWS & PINTS ON THE PATIO
Thursday, September 29 from 5:00pm - 7:00pm
Join us on the patio where humans will enjoy ice-cold Leinie's while the pups play. Ruff Life Pet Hotel will be offering nail trimming for $10 with all donations going to the local humane associations. (Groomer will be available starting at 5:00) Please help us with "Pet Supply Drive" with all supplies going to Local Humane Associations! Any guest who brings in pet supplies will receive a 30% off one regular-priced item coupon for your merchandise purchase that day only + $1 for every beer armband will be donated to local humane associations
Check out our Facebook page @LeinieLodge for more info.
Image
YMCA YOGA AT THE LEINIE LODGE
Wednesday, September 28 from 4:30pm - 6:30pm
Happy Hour Yoga present by the Chippewa Falls WMCA & Leinenkugel's! Join us for this fun, autumn mingler as we move into our poses and relax with a pint. We will begin 4:30 - 5:30pm with an all-level, hour-long, not-too-serious Hatha yoga class in the grassy area in front of the Leinenkugel's Barn. Then we'll hops and barley our way across the footbridge to the Leinie Lodge for a refreshing pint and NamAAAHHHHste social mixer from 5:30 - 6:30pm.

Cost: Includes 1 hour of yoga and 1 drink ticket for a pint of your choice!
YMCA Members: $10 Non-Members: $15 (Until September 22) After Sept 22 & day of walk-ins: $15 (walk-ups are CASH ONLY)