LIKE BEER? YOU'LL LOVE OUR BREWERY TOURS & EVENTS.
Take a tour of our historic brewery in Chippewa Falls and let one of our guides, family members or brewers, introduce you to 155 years of beer brewing and six generations of Leinenkugel family history during our Legacy Brewery Tour.
Have you toured Leinenkugel's before? Try one of our new experiences! Pilot Brewery Tour & Behind the Scenes Tour with Matt Leinenkugel. Our Master Brewer Tour, with John Hensley, the guy that crafts your favorite beers. Lastly, the Historical Grounds Tour with more history about the place we call home, Chippewa Falls, Wiscosnin. All tours start at the Leinie Lodge®, which is filled with historical photos, vintage brewing equipment and plenty of Leinie's beer gear and collectibles to take home. Our tap room holds 15+ different Leinenkugel's beers that are in season, including taproom exclusives made from our small batch Pilot Brewery. Come relax on our patio or by the fireplace with friends and family and enjoy our award-winning beers. Get the full flavor of all things Leinenkugel's® at one of our upcoming events! Subscribe to stay-in-touch & be the first know what's happening in our neck of the woods at Leinenkugel's®.
We recommend you book in-advance. For more information, please call (888) 534-6437. The Leinie Lodge accepts credit cards only.
Image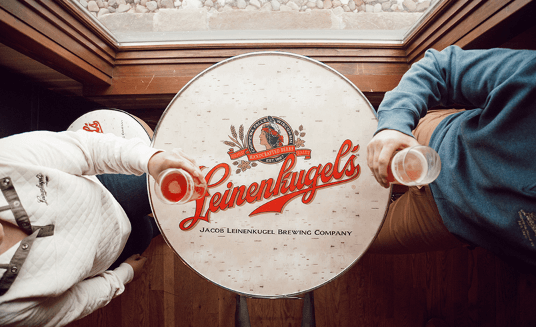 HAPPY HOUR
THURSDAYS FROM 4:00PM - 6:00PM
Join us out here for Happy Hour! Perfect for locals that need a cold Leinenkugel's after a long day of work.
Enjoy 50% off beers, $2.50/pint after work every Thursday! Not valid during events.
Must be 21+. Some exclusions may apply & does not apply during events.
Image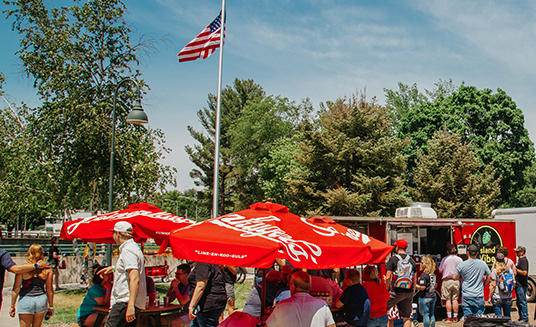 FOOD TRUCKS FRIDAY & SATURDAY
12:00pm - 7:00pm Every Friday & Saturday starting May 5 - October 14
May - June Food Truck Lineup:
Friday, May 5 & Saturday, May 6: Little Red Grilled Cheese
Friday, May 12 & Saturday, May 13: The Batters Box
Friday, May 19 & Saturday, May 20: Bubbles BBQ
Friday, May 26 & Saturday, May 27: Little Red Grilled Cheese
Friday, June 2 & Saturday, June 3: Big Ash Pizza
Friday, June 9 & Saturday, June 10: Smackdaddy's
Friday, June 16: No Food Truck
Saturday, June 17 / 10:00am - 6:00pm at Leinenkugel's Summer Kick Off: Bubble's BBQ, CV Cheesesteak, Dhimiters, Dolce Ragazzi Pizza, Island Vibe and Smoke Stream
Friday, June 23 & Saturday, June 24: The Batters Box
Friday, June 30 & Saturday, July 1: Dhimiters
Image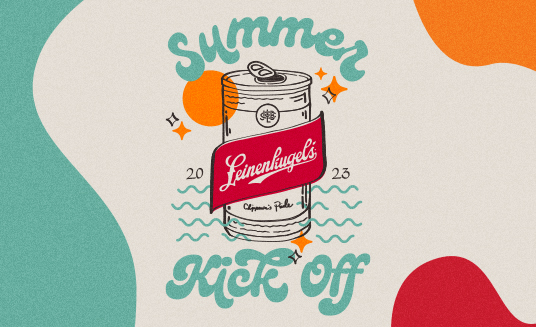 LEINENKUGEL'S SUMMER KICK OFF
Saturday, June 17 from 10:00am - 6:00pm
Join us for our annual Summer Kick Off on Saturday, June 17th! Our biggest outdoor event of the Summer will be taking place at the Leinie Lodge and on the grounds of the Jacob Leinenkugel Brewery. The grounds will be filled with 6 Food Trucks, Cold Beer, Live Music by Uncommon Denominator and Headliner to be announced, followed by music on the patio. Enjoy Games and a Bags Tournament, Leinenkugel Family Members Signing, Merchandise, Vendors, and more! The event will be 10:00am - 6:00pm, with safety measures in place, rain or shine. 
Get your Tickets Now = $20.00+ Taxes and Fees
Day of Event= $25.00+ Taxes and Fees
Admission Ticket includes 3 pints of beer for 21+ only.
GET YOUR TICKETS HERE
*No tours will be held on June 17th, 2023 due to the event, but join us early on Friday for a tour or stop back the next day for Father's Day.