BECOME A LEINIE LODGE MEMBER
Join our family of beer-loving Leinie fans by becoming a member of the Leinie Lodge®. With this completely free membership, you'll receive our monthly email newsletter, The Legend, and get access to great offers and notifications of special events throughout the year. Jacob Leinenkugel built his lake house just north of Chippewa Falls, where he was able to enjoy his refreshing brew surrounded by friends and family. And now the spirit of his Leinie Lodge® lives on. It's more than a place, it's a mindset, and you can be a part of it.
HOURS
Regular Hours (April 1 - December 31)
Sunday - Wednesday
10AM - 6PM
Thursday - Saturday
10AM - 8PM
Winter Hours (January 1 - March 31)
Sunday
10AM - 6PM
Monday - Wednesday
Closed
Thursday - Saturday
10AM - 8PM
The Leinie Lodge may be closed due to inclement weather or private events.
TOURS
Register for a tour on our Tour Page.
Tours run daily & the last tour leaves 60-90 minutes before close, based on availability.
Brewery Tour: $15 = tour + four 5oz samples.
Beer
Pint $5
Flight $15 (includes six 5oz samples)
Two Flights $25
Crowlers to-go $8-$12
CLOSINGS
Easter
CLOSED
Thanksgiving
CLOSED
Christmas Eve
CLOSING EARLY AT 3:00pm
Christmas Day
CLOSED
New Years Day
CLOSED
Pricing includes taxes & fees.
Subject to change based on special events.
Masks are required on tour.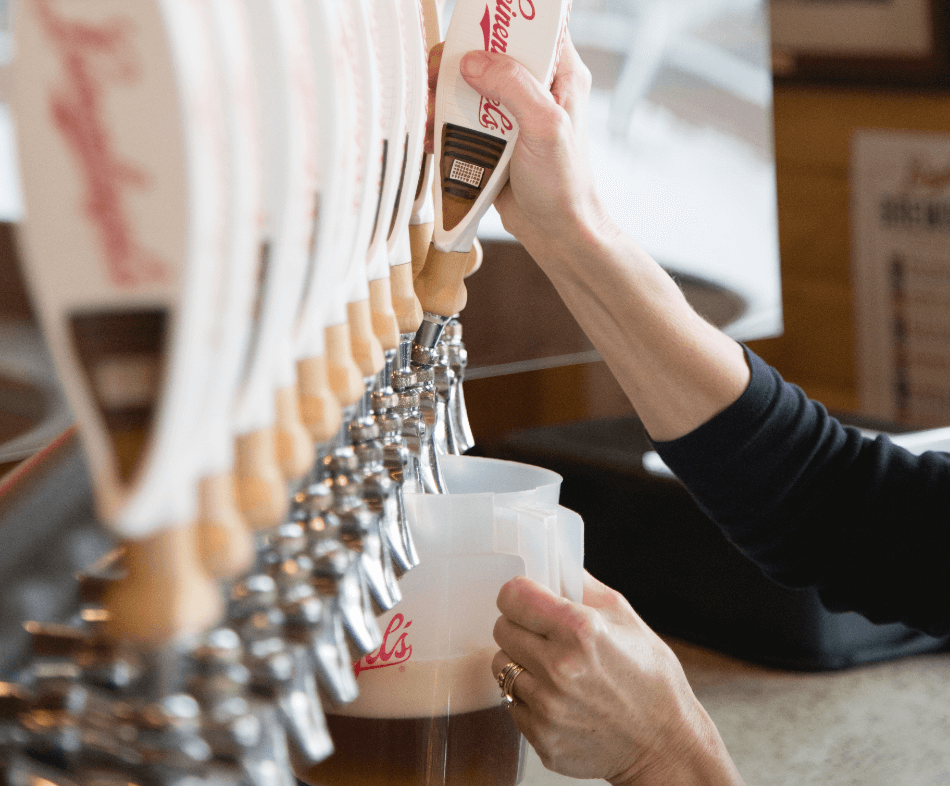 What's on
Tap?
Whether an out-of-towner taking a trip to the Leinie Lodge for the day or you're a local to Chippewa Falls and just want to grab a beer, we know you all want to know: "What's on Tap?" Fresh from the brewery, our taproom has 15+ Leinenkugel flavors rotating based on seasonality & availability. You choose if you want a pint of your favorite, try something new or get a flight of six 5oz samples to sip on them all. Sample inside the Leinie Lodge while playing games at a pub table, shopping around, or by the fireplace. In the warmer months, enjoy on the beer garden patio along the banks of Duncan Creek across from our 155-year-old brewery. Don't forget to bring your furry friend, tail-waggers are welcome on our patio as you grab a brew from outside at our garage door serving windows.
The brewery that crafts all the Leinenkugel's® you know and love is across the creek, but did you know we built a small batch brewery inside the Leinie Lodge? The Pilot Brewery was made in 2022 so our Master Brewer, John Hensley, can create new innovative brews and bring back some hibernated beers from the past that you miss! These beers are only available here in the Leinie Lodge taproom for you to try, taste & let us know what you think.
Want to take a taste of Leinenkugel's home to share with friends & family? Get a 32oz Crowler Can® filled fresh directly from the Leinie Lodge taps with your choice of favorite Leinenkugel's, a new exclusive brew, or a Brewology Mix – two of our beers mixed to make a new flavor for you! We also offer local curbside pick-up for beer gear & crowlers if you want to grab a 4-pack to take to the lake. Cheers!
323,011 BREW MIXES MADE
105,654 GUESTS AT THE LEINIE LODGE
16,798 PAWS ON THE PATIO
Image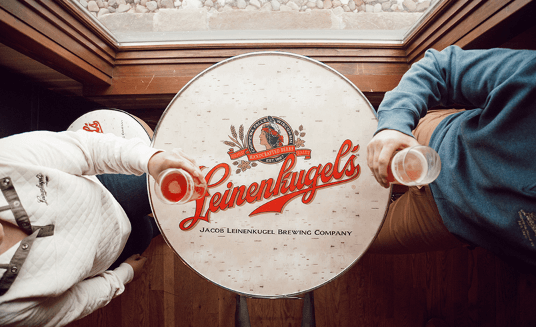 HOMETOWN HAPPY HOUR
MON-THU FROM 4PM-CLOSE
Hey Locals! Does your zip code start with 547?
If so, Enjoy 50% off sampling ($2.50 for a pint of Leinie's) after work Monday - Thursday from 4:00pm to close.
Must show I.D. or Student I.D. for Zip Code. Must be 21+. Some exclusions may apply & does not apply during events.
FOOD TRUCKS
FRIDAYS & SATURDAYS FROM 12PM - 7PM
Enjoy a local food truck ~almost~ every Friday & Saturday of the Summer through October 8, 2022.

Friday, September 23 & Saturday, September 24: Live Great Food
Friday, September 30: Cravings
Friday, October 1: Dhimiters
Friday, October 7: All Sauced Up & Saturday, October 8: Live Great Food
Image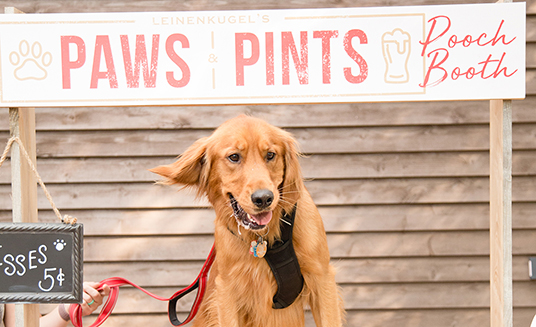 YMCA YOGA AT THE LEINIE LODGE
Wednesday, September 28 from 4:30pm - 6:30pm
Happy Hour Yoga present by the Chippewa Falls WMCA & Leinenkugel's! Join us for this fun, autumn mingler as we move into our poses and relax with a pint. We will begin 4:30 - 5:30pm with an all-level, hour-long, not-too-serious Hatha yoga class in the grassy area in front of the Leinenkugel's Barn. Then we'll hops and barley our way across the footbridge to the Leinie Lodge for a refreshing pint and NamAAAHHHHste social mixer from 5:30 - 6:30pm.
Cost: Includes 1 hour of yoga and 1 drink ticket for a pint of your choice!
YMCA Members: $10 Non-Members: $15 (Until September 22) After Sept 22 & day of walk-ins: $15 (walk-ups are CASH ONLY)

REGISTER HERE AT THE YMCA
PAWS & PINTS ON THE PATIO
Thursday, September 29 from 5:00pm - 7:00pm
Join us on the patio where humans will enjoy ice-cold Leinie's while the pups play. Ruff Life Pet Hotel will be offering nail trimming for $10 with all donations going to the local humane associations. (Groomer will be available starting at 5:00) Please help us with "Pet Supply Drive" with all supplies going to Local Humane Associations! Any guest who brings in pet supplies will receive a 30% off one regular-priced item coupon for your merchandise purchase that day only + $1 for every beer armband will be donated to local humane associations
Check out our Facebook page @LeinieLodge for more info.
Image
BIKE WITH LEINIE FALL COLORS
Tuesday, October 11 from 5:00pm - 7:30pm
During this experience, you will be able to take a scenic bike ride through Chippewa Falls exploring different routes each week and end back at the Leinie Lodge for a cold beer along with a few giveaways. Your hosts will be Bill Quirk and Mike Ruff (subject to change). Your ticket includes a secure spot on the ride, 2 pints of Leinenkugel's beer, a chance at giveaways, and great company! Arrival 5:00pm, Ride Begins 5:30pm, Arrive Back 6:30pm, Beers & Giveaways, Event Ends 7:30pm. Book your spot now: BUY TICKETS HERE
CRAFTING CHARCUTERIE
Wednesday, October 12 from 6:00pm - 8:00pm
Come learn and craft your own Charcuterie with us and Northwoods Grazing! Leinie Lodge will provide each guest with 2 pints of their choice during the event. The event will take place at 6:00pm. Limited seats are available. Charcuterie 101 includes:
Local cheese and meat selections as well as all the accompaniments and garnishes needed to make a beautiful charcuterie platter
Tons of tips and tricks to make a balanced charcuterie spread
History of local cheesemakers
A slate or wooden cheese board for each participant to take home
Pairing suggestions
Honey dipper
Guidance on different cheese cutting techniques and the right tools to use

RENT THE LEINIE LODGE
Host your next private event or holiday party on the Leinie Side, by renting our warm, friendly Leinie Lodge®. Whether it's a special occasion or company get-together, the cozy "Northwoods" atmosphere is sure to please any crowd. You and your guests would love what we have to offer in the Leinie Lodge®.
SAMPLING BAR
Our year-round and current seasonal beers are available at the sampling bar. Our beer is provided in limited quantities and only to guests over 21.
CHARMING ATMOSPHERE
You'll find a large stone fireplace surrounded by comfortable couches to create a perfect warm atmosphere for relaxing; outdoor patio seating with a "Northwoods" view of the Chippewa Falls Brewery and Duncan Creek; lofted ceilings with wooden rafters and pillars; along with historical Leinenkugel's® memorabilia and displays.
A PERSONAL TOUCH
You'll feel very welcome with our friendly and knowledgeable staff and after-hours guided brewery tours. We also offer catering and cheese sampling at additional fees.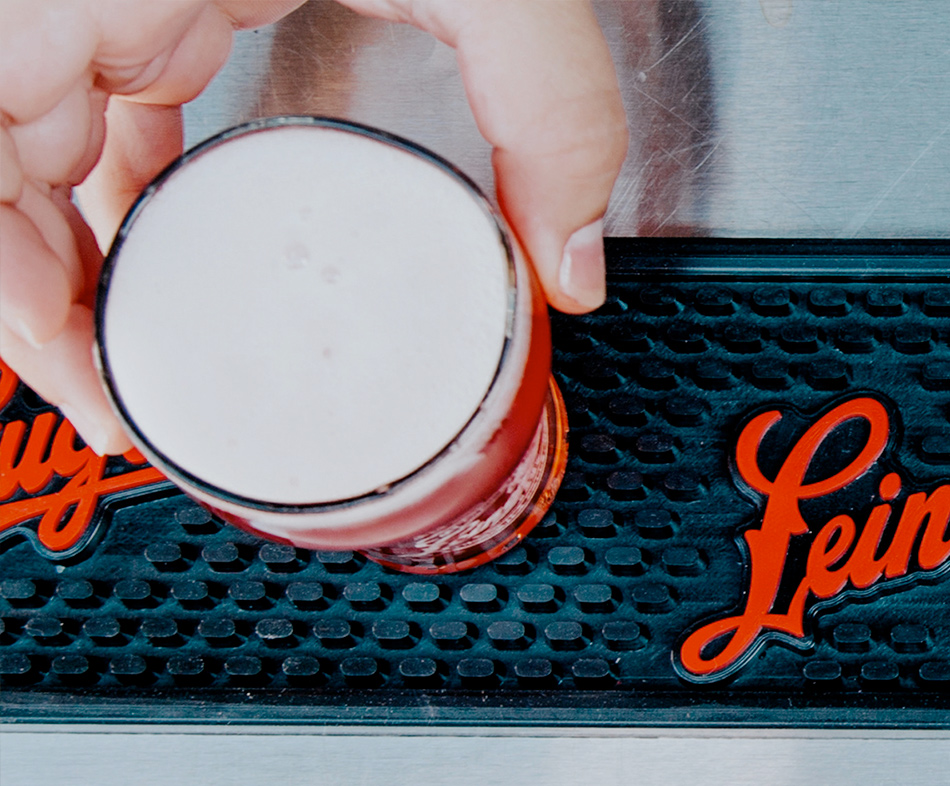 Join our
Team
We believe in our beers and people, and that a truly inspiring and diverse place to work is a must. We are looking for self-motivators who believe the world is full of untapped opportunities and want to work alongside fifth and sixth-generation family members. If you want to be on a winning team as we do, we want to hear from you. We are currently looking for team members to fulfill the Leinie Lodge Associate role, whether that is as a Leinenkugel's Tour Guide, Bartender or Greeter!